Join the Arabian Racing Association of California
JOIN ARAC TODAY
JOIN US FOR GREAT ARABIAN RACING
You can make a difference in the Arabian horse industry and sport of horse racing. The monetary benefits are a bonus to all of us who enjoy working with this magnificent breed of horse.
JOIN ARAC TODAY
2018 Arabian Racing Schedule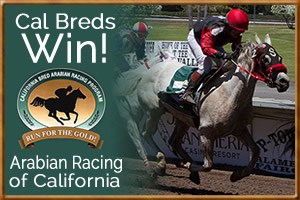 ARAC Awards Banquet, Sunday February 25, 2018
The Arabian Racing Association of California will hold their annual Meeting and Awards Banquet and Silent Auction on Sunday, 25 February 2018, honoring top horses, trainers, owners and jockeys for the 2017 racing season at HARRIS RANCH in Coalinga, California.
11:00 AM – 1:00 PM – Board Meeting
1:00 PM – 4:00 PM – General Meeting
4:30 PM – 7:00 PM – Harris Ranch Banquet – Make Reservations 
ARAC Banquet Silent Auction – Opens February 5th – Lots of great auction items, from Wine Country Weekends to Cooking Classes with Wine Pairings.  Check back for full details.
After the meeting, while all members are still in the Belmont Room the awards are to be given out. This is being done this year due to, ARAC not booking the normal Banquet Dinner that ARAC pays for. This year ARAC needs to spend every dollar wisely, to make sure there will be racing for ALL. Members are being asked to order and pay for their own dinners, they order at the Banquet.
If you have any questions please email or call me and I will do my best to answer you. Nice to see new names in the email addresses, hopefully we can build up Arabian racing in CA. again.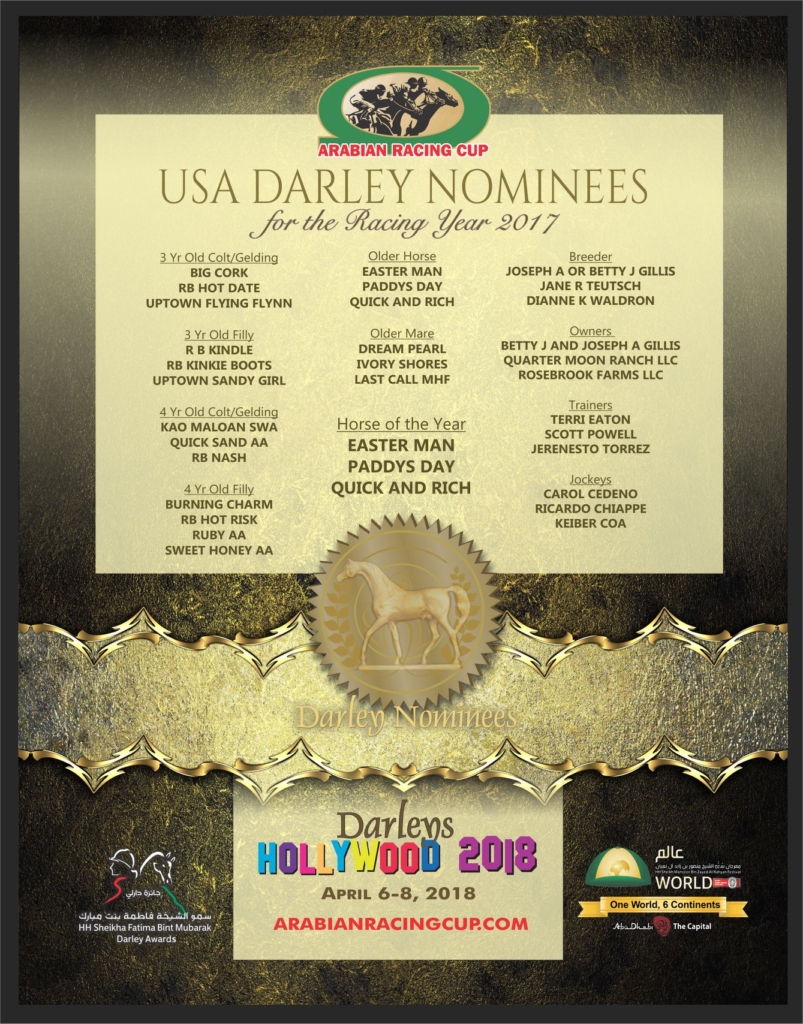 Friday, April 6, 2018
Live from the Dolby Theatre in Hollywood, California
This annual event crowns the Arabian Horse Racing Champions of the USA and features the world presentation of the HH Sheika Fatima Bint Mubarak Darley Awards sponsored in part by National Feed & Flour
Saturday, April 7, 2018
HH SHEIKHA FATIMA BINT MUBARAK DARLEY AWARDS STAKE
$150,000 Grade 1 Event, at Santa Anita Park in Arcadia, California
Sunday, April 8, 2018
DARLEY GALA BANQUET & ANNUAL STALLION AUCTION
The Beverly Wilshire Four Seasons, host hotel, in Beverly Hills, California
Nominations to be announced soon!  Will Dream Pearl win again?  Will Paddy's Day be the Horse of Year?

We Are Dedicated To Arabian Racing in California
IMPORTANT ANNOUNCEMENT
THE NEW SUPPLEMENT RACING INCENTIVE
To all ARAC members:
Starting in 2017 a Supplement Racing Fund has been created which will be used to offset the expense of the mandatory Insurance required to race in California. From this Supplement Fund, the 5th,6th and 7th placing horses will receive $400.00 in ARAC races during the 2017 Racing Season.
The $30,000 fund is finite and will be used until the Fund is totally depleted. We hope to add more money to this Supplement Fund during the summer through donations and sponsors to support these horses throughout the entire 2017 racing season.
It is our hope that by offsetting the expenses of racing in California, Arabian owners will appreciate the opportunity of racing without the financial burdens of past years.
Several owners, racing related businesses and other Arabian Racing enthusiasts have offered financial contributions to the Supplement Fund to guarantee the continued health of racing in California. Please consider joining them and help see California Arabian Racing grow.
For more information contact:
Cory Soltau DVM , ARAC Secretary
email: bvarabians@aol.com